We'd Like to
Introduce
You to the Best
Version of
Yourself
Hair loss can be a difficult experience for both men and women. While it is more common among men, women can also experience it. Whether it's a receding hairline or thinning crown, hair loss can cause insecurity and lowered self-image. Your quality of life can drop and begin to affect all aspects of your day-to-day activities. A hair restoration specialist who specializes in hair loss can help provide you with the treatment you need to feel like you again.
For those who experience hair loss, you are not alone. Nearly two-thirds of men in the United States experience hair loss to some degree. The good news is that there are effective restoration treatments that can restore your youthful head of hair.
Depending on your specific needs, there are multiple treatment options that Dr. Linville provides. Between non-surgical hair restoration, Neograft, or hair transplants, there is a treatment out there that is right for you.
Aging will inevitably result in hair thinning. However, there are several other factors that can contribute to hair loss. Certain medications and foods can speed up hair loss. Stress also has been known to contribute to losing hair. And, of course, illness can also affect your hair.
Fortunately, many of these contributors to hair loss can be avoided by making changes in your life. However, the most prominent factor in hair loss goes much deeper: your genes.
Over time, both men and women experience hair thinning. This is due to the effect of hormones on your follicles. Genetics play a huge part in how susceptible your follicles are to hormonal changes and aging. Some people will go through life with a full head of hair well into later years. Others might notice significant hair loss even in their 20s.
We are not at a point where we can alter our genetic code, but science and medicine have at least developed effective ways to counter hair loss.
NEOGRAFT HAIR RESTORATION
Neograft hair restoration is a minimally invasive transplant treatment. It has been cleared by the FDA and has been shown to be highly effective. This treatment option uses minimally invasive follicular unit extraction ("FUE") to restore your hair. The treatment takes individual follicles from the back of your head and transplants them into the affected area.
It doesn't require surgery, and there is no need for incisions or stitches. This means you will have no residual scars, and the results appear natural. While this is not a surgical procedure, it can require a small amount of downtime to heal from the transplant. Still, recovery is quick, and the results are immediate.
NON-SURGICAL HAIR RESTORATION
This involves injections that contain immune-privileged cells derived from healthy amniotic fluid. When combined with the patient's own blood plasma, this can encourage and generate growth across their scalp. This is most effective in the early phases of hair loss, while more aggressive treatment are usually indicated later, or when hair loss has become more pronounced. 
The results can vary from patient to patient. Some individuals will notice a significant slowdown in the loss of hair each day. For others, it can even cause regrowth, reversing the thinning of your hair. During your consultation, Dr. Linville will help you decide if this treatment is right for you.
Hair loss can be a difficult experience as it is a change in appearance that is often associated with being older. While hair loss is more common among men, women can also experience it.
HAIR TRANSPLANT SPECIALIST

Hair transplant surgery is one of the most common methods of treating male and female hair loss. Having thick, healthy hair is something both men and women seek to have. Dr. Cain Linville offers the newest, most effective technique, follicular unit extraction ("FUE").
Less visible scarring than FUT method
Transplants follicles individually
Both methods result in a natural look.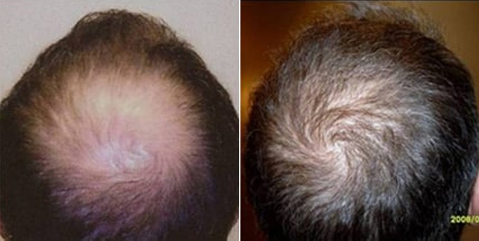 HAIR TRANSPLANT AND RESTORATION SPECIALIST

Dr. Cain Linville at Hair Specialists Houston is a plastic and reconstructive surgeon with over a decade of experience in hair loss treatments. Dr. Linville and his team are prepared to help each patient feel comfortable and get them back to feeling like themselves again. Contact us today for a consultation. Call 713-678-0019 to learn more about your treatment options and how you can take the first step to restoring your hair.
Schedule Your Consultation