Hair loss can be a difficult experience for both men and women. It is a change in appearance that is often associated with being older. Though this is nothing negative in itself, it can still lead to decreased self-confidence and dissatisfaction with your appearance. Fortunately, we provide cutting-edge hair transplant options that can restore your hair to its natural, full look.
While hair loss is more common among men, women can also experience it. For those who experience hair loss, you are not alone. The good news is that there are effective treatments for hair loss that can restore your youthful head of hair. At Hair Specialists Houston, we use only the latest and most effective hair restoration methods. Schedule your consultation today to take the first step toward reaching your hair restoration goals!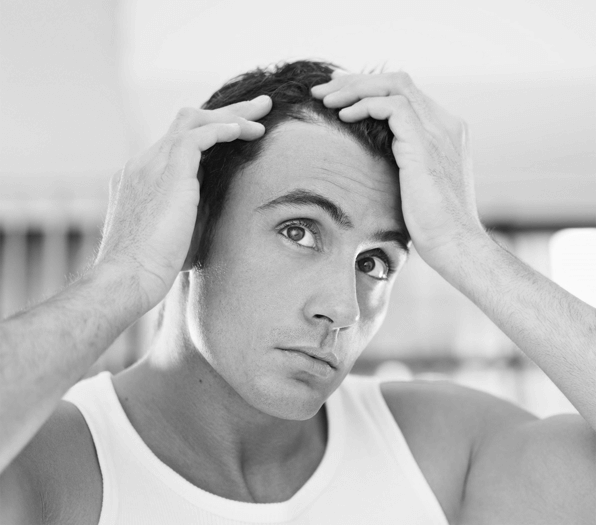 WHAT IS A HAIR TRANSPLANT?​
A hair transplant is one of the most common methods of treating male and female hair loss. It takes health hair follicles and relocates them to areas of thinning or lost hair. Your body then does the rest. It reacts to these healthy follicles by producing more hair in your target areas. When performed by a specialist, you will see stunning results.
Having thick, healthy hair is something both men and women seek. There are two methods for hair transplants:
Follicular unit extraction (FUE)
Follicular unit transplantation (FUT)
Dr. Cain Linville offers FUE Hair treatment. It is the most current and efficient way to deliver the results that patients want.
WHAT IS FOLLICULAR UNIT EXTRACTION (FUE)?
FUE involves Dr. Linville making microscopic openings in the donor area of your scalp. From these openings, Dr. Linville extracts follicular units. This method may cause some minimal scarring, but it is less visible than the strip method (FUT). These healthy follicles are going to serve as the foundation for your renewed head of hair.
After Dr. Linville removes the follicles from the harvest area of the scalp, they are transplanted into the tiny openings on the balding part of your head. Each follicle is expertly placed into a target area to optimize your results and create a natural look.
The FUE method is usually fully complete within one year. After the one-year mark, you can begin having regular haircuts. You will also be able to stop taking the necessary vitamin supplements, volumizing shampoos, and other hair loss products advised during this period.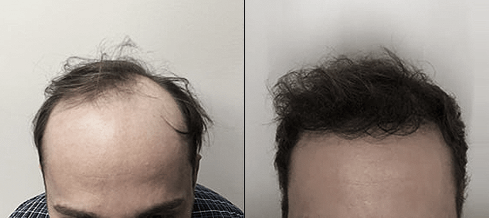 Get Your Hair Back
Schedule Your

Consultation
THE NEOGRAFT DIFFERENCE
Dr. Cain Linville specializes in the use of NeoGraft. NeoGraft is a revolutionary, non-invasive hair transplant alternative to traditional FUT methods. It has proven to result in:
Shorter recovery time
Minimal to no scarring
Fewer activity restrictions post-operation
Instead of removing skin,
NeoGraft harvests using Follicular Unit Extraction. Before, FUE would take an extraordinary amount of time, as the specialist needed to remove each follicle by hand. But NeoGraft is the systematic removal of individual follicles using a hand-held extraction tool. Not only does NeoGraft increase the speed of the treatment, it boosts the accuracy of follicle extraction and transplantation.
Also, Neograft has a dramatically increased take rate compared to traditional strip harvesting. Since it works by creating more exact grafts, they are transplanted with minimal damage or interference.
RECOVERY
The recovery period is brief, and you should be back to your daily activities in a short amount of time. The results will not be immediate as the scalp needs to recover after surgery. Remember, it is normal for the transplanted hair to fall out. That only means that it is now time for the follicles to begin producing new hair on their own.
At first, your scalp will be tender. And you may need to take some prescribed pain medication for the first few days. If you have any concerns during this time, we are here to answer all your questions. Our goal is to provide a comfortable and informed experience.
The initial healing period lasts a few days. And the results begin to become more visible within a few months.
WHY WE DON'T DO FOLLICULAR UNIT TRANSPLANTATION (FUT)?
While there can be some benefits to this method, we believe it does not match up with modern methods. The FUT method, known as the strip procedure, is an older style of hair transplant.
The method involves removing a piece of skin from the harvest area of the scalp, also known as the area that has hair. The key difference is that FUE removes individual follicles while FUT removes a strip. FUE obviously leaves much less evidence on your body. With FUT, the harvest area is closed up with stitches as the incisions are necessary for removal. The strip is then divided into follicular units, which are individual hair groupings. There will be thousands of tiny incisions made on your scalp area that is bald or has significant hair loss. The distinct groupings from the strip will be placed in them.
We no longer see this method as the best for patients. Removing the strip is invasive and not worth the extra discomfort. With NeoGraft, we can provide optimum results with minimal patient discomfort. FUE is the future of hair transplant methods, and that is why we stand by it.
CONSULTATION
The first step to hair restoration is scheduling your consultation with Dr. Linville. It is simple and easy to schedule a consultation. Contact our office, and we can get you set up and ready to meet with Dr. Linville one-on-one. During the consultation, Dr. Linville will need information about your medical history and current medications. It is important to let the doctor know your expectations so he can provide you with his expert feedback on possible outcomes. If you decide you would like to move forward, you can schedule your hair transplant surgery.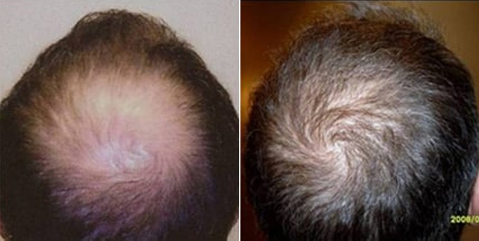 Dr. Cain Linville at Hair Specialists Houston is a plastic and reconstructive surgeon with over a decade of experience in hair loss treatments. Dr. Linville focuses on helping each patient feel comfortable and getting them back to feeling like themselves again. Contact Hair Specialists Houston today for a consultation!
Schedule Your Consultation